LEGO Star Wars: The Skywalker Saga is an upcoming Lego-themed action-adventure video game. It is the sixth entry in Traveller's Tale's LEGO Star Wars series. The game is planned to have a fully voiced cast; however, there may be an option to disable dialogue in the game.
Gameplay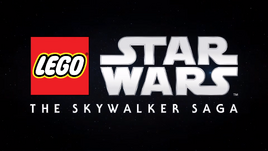 Lego Star Wars: The Skywalker Saga is a third-person action-adventure with an open world hub built in a brand new engine. You will be able to play through all nine films but none of the others such as Rogue One, The Clone Wars, and Solo. They may add those as DLC. Unlike previous Lego games in which players had to advance through the story in a linear order, players can now choose to start the game from any of the main Skywalker Saga episodes and complete them in any order they wish. Each episode has their own hub filled with planets featured prominently in each respective film that can be visited and explored. Each episode will have five story missions each, a total of 45 levels. Once you have completed that level you will now have the option to take bounties on people and traveling to different planets.
Combat has also been revamped, such as lightsaber fights now involving a variety of combos with light attacks, heavy attacks, and force moves, and blaster characters having an over-the-shoulder camera angle featured in many third-person shooter games.
Random encounters will also happen in the game's hub. For example, an Imperial Star Destroyer will suddenly jump out of hyperspace and send a fleet of TIE Fighters after the player. Players can choose to engage in dogfights with them or continue onward to progress the story. The game is rumored more then 200 playable characters and 400 characters in all (Which includes NPC's), though TT Games has said that number will change. Some of larger vehicles will also be navigable inside such as the Death Star or the Millennium Falcon. The gold bricks as of all LEGO Games will be renamed to Kyber Bricks. New information has come out confirming 4 codes that will unlock Characters / Vehicles In-Game. Those 4 codes are "SIDIOUS", "SHUTTLE", "ARVALA7", and "WROSHYR". These codes will unlock Darth Sidious's Death Star Final Duel appearance, the Resistance I-TS Transport, the Razor Crest, and the Christmas Sweater Darth Vader.
Confirmed Characters
Confirmed Ships / Vehicles / Creatures
Confirmed Planets
Premise
The game will adapt all of the 9 episodes of the Star Wars saga: The Phantom Menace (1999), Attack of the Clones (2002), Revenge of the Sith (2005), A New Hope (1977), The Empire Strikes Back (1980), Return of the Jedi (1983), The Force Awakens (2015), The Last Jedi (2017) and The Rise of Skywalker (2019).
Development
The game was first teased to be in development by Lucasfilm sound editor Matthew Wood at Star Wars Celebration Chicago. An announcement trailer premiered at E3 2019 during Microsoft's press conference. In addition on December 20, 2019 LEGO announced a official trailer on the LEGO YouTube channel with a release date of 2020. There have been numerous "leaks" regarding release dates, ranging from the last week of April to the last week of June 2020.
In order to avoid spoilers for The Rise of Skywalker. Lucasfilm has not shared any story details with TT Games at the time of development, giving the team only Episodes I through VIII to work with.
August 8th, it still hasn't showed up yet, making both leaks above false. New Release date teases Spring 2021.
Community content is available under
CC-BY-SA
unless otherwise noted.